New updates on Chromebook for hybrid classrooms
Syah Ismail
Chromebooks have become the number-one device in education around the world because they are powerfully simple: opening a world of possibilities for every student and teacher, whether they're at school, at home, or anywhere in between. As a result, Google is making changes to support schools as they send Chromebooks home. These changes will also help students connect and participate in hybrid classrooms while creating and sharing their ideas with a wide range of learning tools from podcasting to screencasting.
Easy to use
With Chromebooks, it's easy to set up the right environment for your school from wherever you are. With over 40 new devices for education in 2021 alone and Chrome Education Upgrade, admins can enable more than 500 policies in Google Admin Console. And with policies like Zero-Touch Enrollment, IT admins can drop ship devices to any location and have the device be ready to go – without ever having physically touch the device.
Automatic updates for up to eight years on devices keep them safe and secure – and with all of the latest and greatest security updates and new features. However, it can be challenging to know when devices are reaching their Automatic Update Expiration (AUE) date. Last year, Google updated the Devices page of Google Admin Console to show when devices reach their AUE — and now, Google is adding a new page in Admin Console that enables admins to view Chrome Insights Reports. The first report will be a view of AUE dates of the device fleet, which helps you understand when and how many devices have reached, or are going to reach, their AUE dates. These reports will help you prepare for when you should be thinking about purchasing new devices, and how often.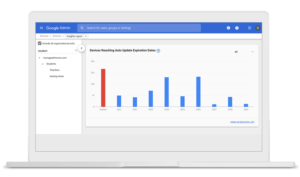 This August, Google is rolling out PIN logins for education users as part of device set-up. This means that instead of having to remember so many long passwords, and spend time typing them in, students, educators and admins with assigned devices will be able to type in a simple six-digit PIN to log in. When students are logging into a device, they will be prompted to set up a PIN, and will be able to log in or unlock their assigned Chromebook using that PIN going forward. Admins will still have the ability to enable this feature for their domains in Google Admin Console. PIN logins will be standard on all new devices.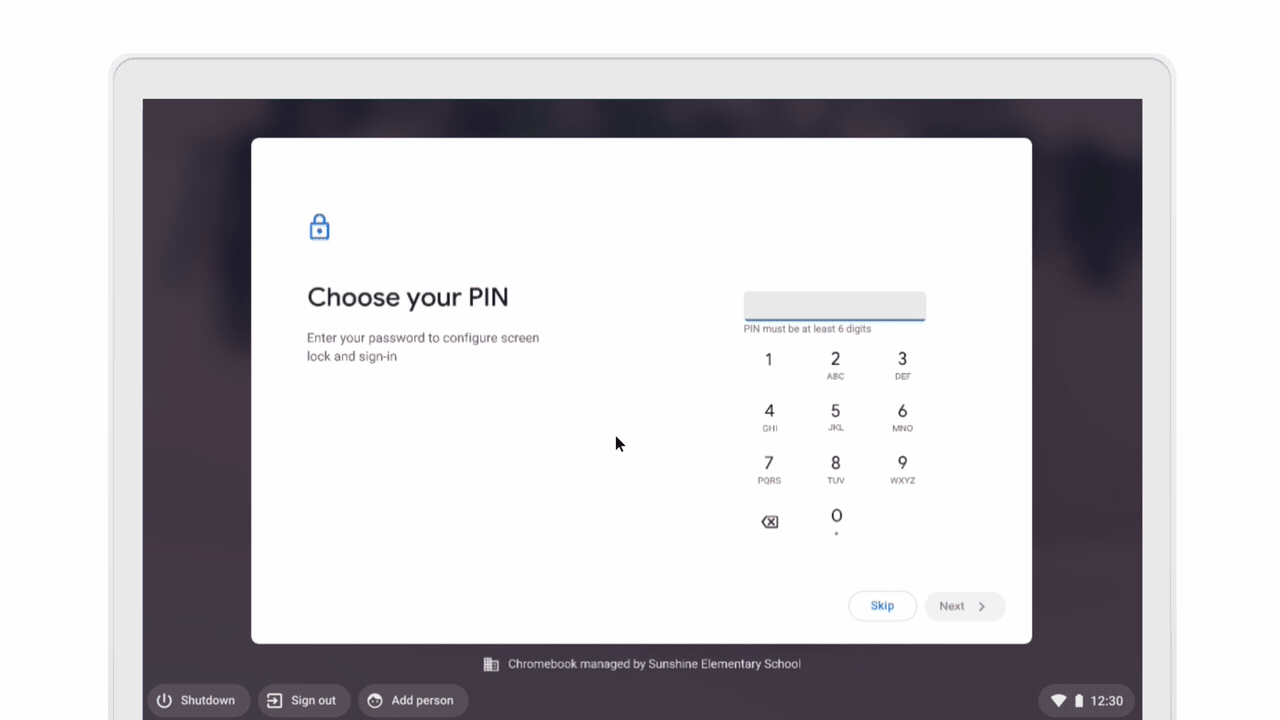 Engaging and inclusive
Chromebooks come with accessibility features built-in, including the newest feature, Live Caption. For students who may need an alternate input into their Chromebook, Google has Switch Access, which is the ability to use the built-in keyboard or an external device via USB or Bluetooth to control their cursor. Coming in August, Google is introducing Point Scanning, which is a new navigation mode for Switch Access. It allows people to select any point on the screen by first choosing the horizontal location they want to select, and then having them choose the vertical location.
Chromebooks also come with two magnifiers built-in: a full-screen magnifier and a docked magnifier. Google has just added a new panning method to the full-screen magnifier. In addition to the current ability to pan the screen when your mouse hits the edge of the magnified viewport, you can now keep the mouse centered on the screen and have the viewport pan as you move the mouse.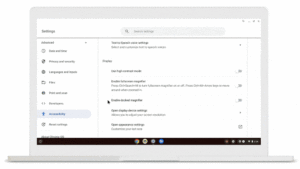 To help users better understand how to use ChromeVox, one of Google's two built-in screen readers, Google just released new tutorials for ChromeVox, including a quick orientation for new users, which automatically launches when ChromeVox is activated, along with interactive lessons, which ask users to execute commands or press designated keys to continue. There is also a practice area for a small set of lessons, which allows users to practice what they've learned in a sandboxed environment. And best of all, the tutorial is also available for touch devices.
Chromebook
If you want a computer that is smart, secure, and ready when you are, it's time for a Chromebook.