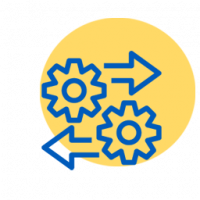 API management is the process of designing, publishing, documenting and analyzing APIs in a secure environment.
Through an API management solution, an organization can guarantee that both the public and internal APIs they create are consumable and secure.
API Ecosystems Are Innovation Drivers
APIs are the backbone of digital business ecosystems that encompass networks of partners, developers, and customers. These ecosystems may be composed entirely of internal parties (i.e. developers within an organization) or may include external individuals and organizations, such as suppliers, third-party providers, contractors, customers, developers, regulators, or even competitors.
Our research found that while companies of all API maturity levels are likely to be focused on speeding up development of new applications and connecting internal applications, high-maturity organizations are significantly more likely to focus on developing a developer ecosystem or B2B partner ecosystem around their APIs.
The State of API Economy 2021 Report
According to Google's State of API Economy 2021 Report, 56% of IT decision-makers view APIs as assets that help organizations build better digital experiences and products, 52% say APIs accelerate innovation by enabling partners to leverage digital assets at scale, 40% view APIs as systems integration enablers, and 36% say they see APIs as strategic assets for creating business value. 
APIs help us build better digital experiences
APIs accelerate innovation by exposing assets with partners
APIs are strategic assets for creating business value
APIs are a way to do system integration
APIs are products that are directly leveraged by external customers
Top API Platform initiatives
Speed up new application development
Connect internal applications
Create a developer ecosystem
Develop B2B partner program
Monetize APIs as a new revenue stream
Application powered by APIs
Survey participants report using APIs for a wide array of applications, with web (57%) and mobile (56%) efforts leading the way, followed by automation (49%) and Internet of Things (IoT) (46%) initiatives. Research shows that larger companies use APIs more often to power mobile applications, while smaller enterprises are more likely to focus on desktop apps.
Delivers value across the Digital Value Chain
Consumption
Outside-In Approach
Consumption
Interactive
Unpredictable Usage
Exposure
Inside-Out Approach
Integration
Transactional
Predictable Usage
Apigee Edge Full API Lifecycle Management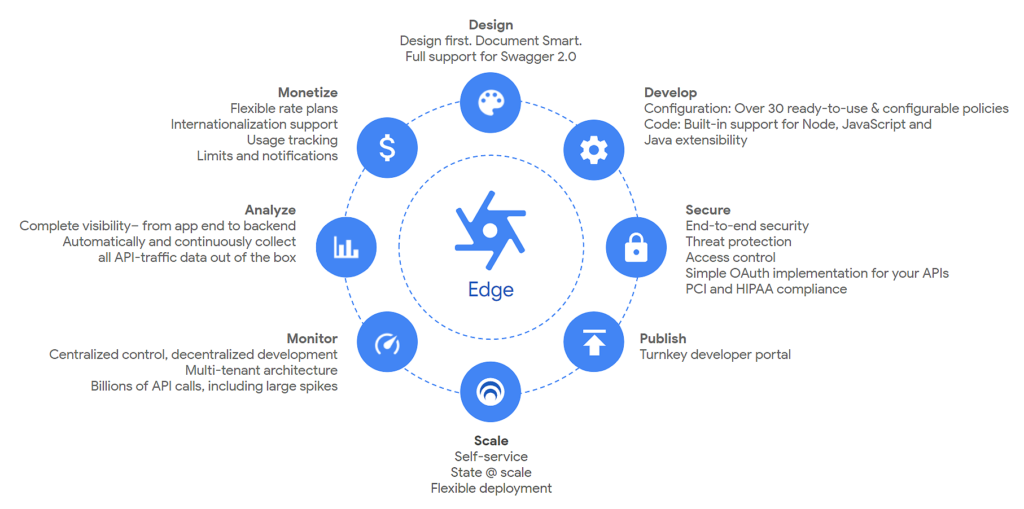 Google named a leader in the 2022 Gartner® Magic Quadrant® for Full Life Cycle API Management
For this report, Forrester evaluates how API management is evolving to drive digital transformation programs for enterprises, looks into detailed evaluation criteria for the ability to execute and completeness of vision.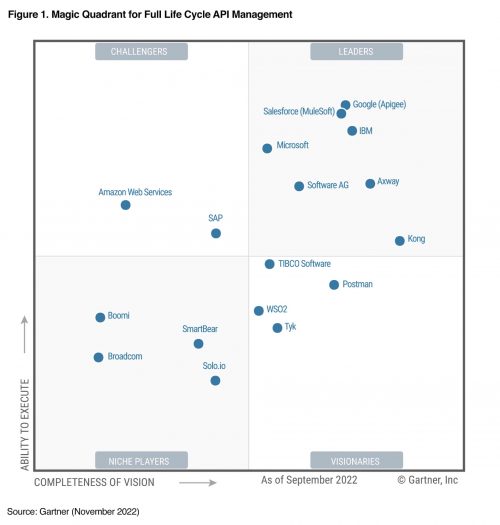 The API Management Platform provides cohesive API management across clouds and data centers with greater security, visibility, and control — so you can focus on your business, not your infrastructure.
Schedule a 1-1 Consultation Session
A full life cycle API management platform for businesses of every size.