Looker Marketplace goes beyond business intelligence
Syah Ismail
For many businesses, business intelligence (BI) consists of data visualizations and dashboards.  The problem is that dashboards are not the answer to every data need. Many users today are looking for rich data experiences that are immediately accessible and seamlessly part of their day-to-day work. Surfacing insights in collaboration apps like Google Chat and Slack, infusing data into productivity apps like Google Docs or Slides, or triggering auto-generated business processes such as updating paid media bids or using AI-powered bots are just a few of the ways information can be provided, integrated and operationalized.
For these reasons, businesses need to think about delivering data and analytics to workers in a way that makes it meaningful and immediately productive.
Reflecting everyday data experiences
On a daily basis, in almost everything we do, we use data analytics without being aware of it. When we sit down to watch our favorite streaming service, navigate traffic, shop online, work out using a smartwatch, we rely on integrated data insights in our day-to-day activities.
These experiences have influenced what we expect from data systems at work, and why businesses need a new approach for delivering data and analytics on the job.
The Looker Marketplace
The Looker platform helps businesses realize this new approach and move beyond BI by providing tailored off-the-shelf products or Looker Blocks which are ready for deployment. These data-driven experiences are focused on the needs of the business or department. 
These accelerators support:
Modern BI & analytics: Democratize easy access to timely and trustworthy data enabling people to make better, faster, more confident data-driven decisions every day. 

Integrated insights: Infuse relevant information into the tools and products people already use, enhancing the experience of those tools and making teams more effective. Without even thinking about it, everyone at the company is making data-informed decisions.

Data-driven workflows: Super-charge operational workflows with complete, near-real-time data to optimize business processes. This allows companies to save time and money by putting their data to work in every part of their business.

Custom applications: Create purpose-built tools to deliver data in an experience tailored to the job. By building the exact experiences people need, you can make your employees, customers, and partners more effective and more efficient.
The Looker Marketplace helps you find content to either deploy data experiences into your Looker instance or to build new data experiences faster by taking building blocks from the marketplace and extending them in a reusable fashion.
Moving Beyond BI with Solutions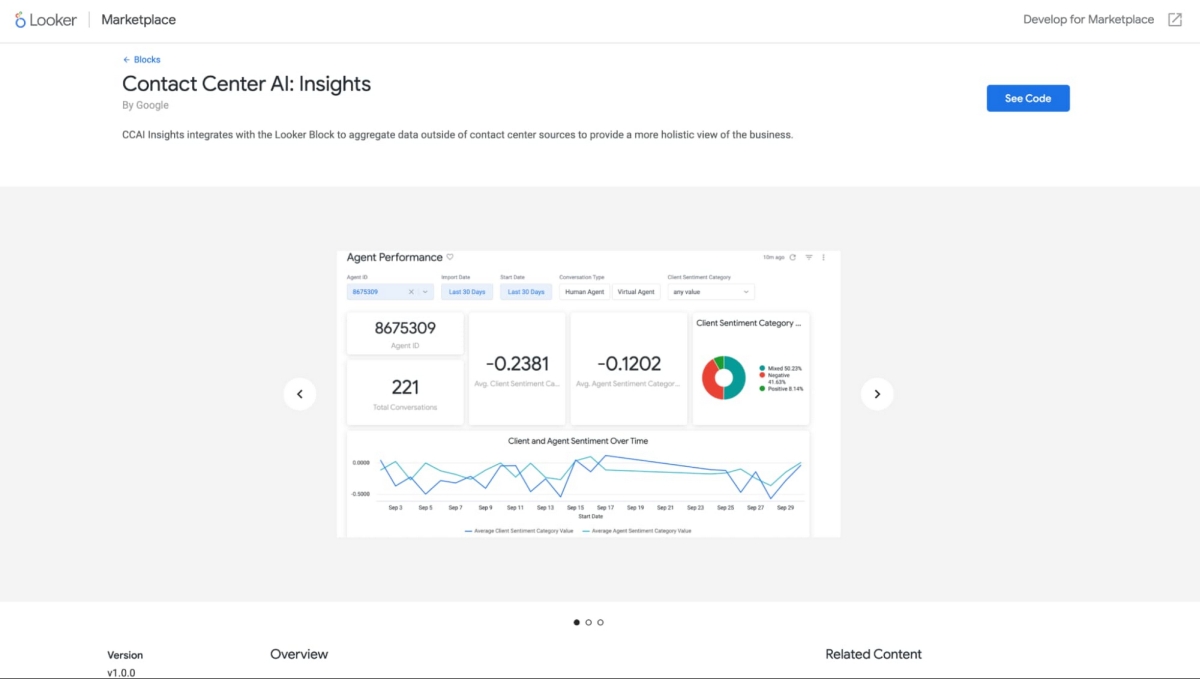 An example of such a solution is the Contact Center AI (CCAI) Insights, which you can explore in the Looker Marketplace. With CCAI Insights, Looker can leverage the power of AI to converse naturally with customers and resolve basic issues quickly, as well as improve future experiences and drive long-term customer satisfaction by measuring and analyzing customer interactions while improving overall efficiency. 
Using Google's machine learning capabilities and Looker Blocks, you can easily identify resolutions that have worked well, and use data actions to automate contact center operations based on new insights.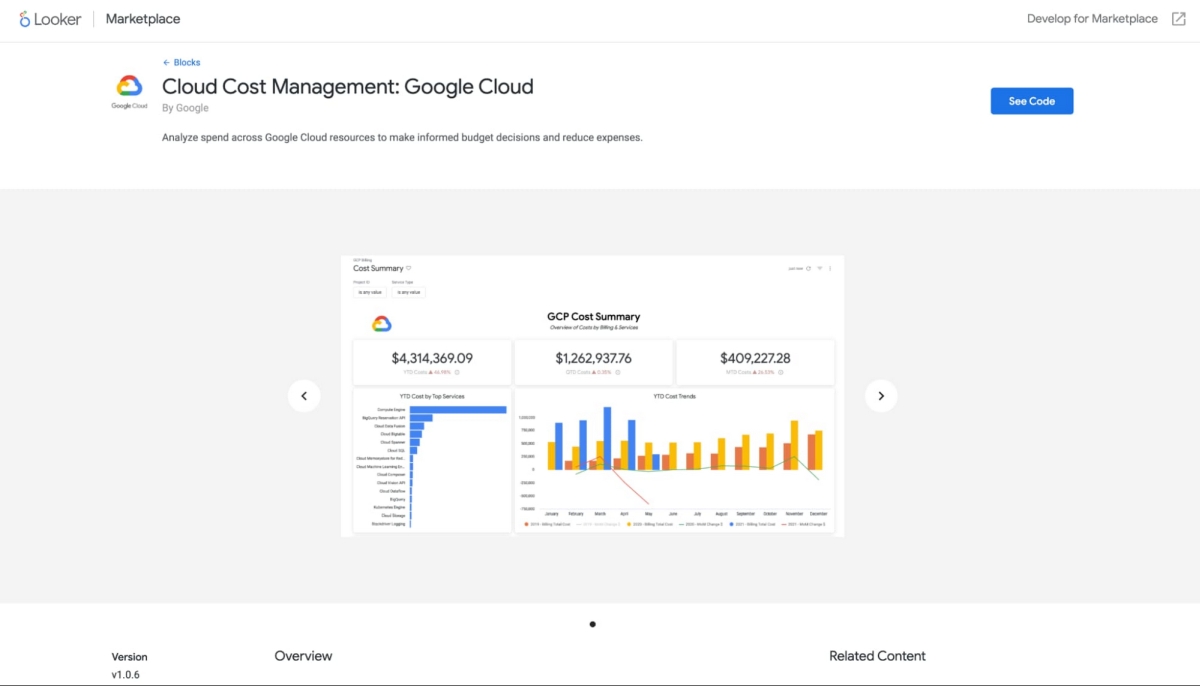 Another example is the Google Cloud Cost Management solution. Effective cloud cost management is important for reasons beyond cost control. A good cloud cost management solution provides you the ability to reduce waste and predictably forecast both costs and resource needs.
Leveraging the Cloud Cost Management Block is a simple way to understand your cloud spend without data movement — your existing billing and platform utilization data remains in existing siloed cloud data warehouse platforms. Looker connects directly to the billing data in each respective cloud data warehouse, providing a consolidated reporting view of cloud spend across Google Cloud, AWS and Azure. You can see all your spending information in a single dashboard that can contain mutual filters such as date, skill teams, application name(s), and more. You can activate alerting notifications and schedule reports to be sent automatically via email, a messaging service, and to other destinations. This means that on day one, you'll have real-time, accurate multi-cloud cost reporting.
Build new data experiences and upload to the Looker Marketplace
Developers and Looker partners can create new content and publish it in the Looker Marketplace. The easiest way for you to get started is to visit the Looker Developer Portal and discover all the types of content you can build with the platform's capabilities.
Data Analytics
Learn how data analytics helps organizations build and deliver custom data-driven experiences that go beyond just reports and dashboards, scale and grow with your business, allow developers to build innovative data products faster, and ensure data reaches everyone.