Google Tensor: Machine learning on a chip
Syah Ismail
Every few years, machine learning (ML) completely changes the way we use tech. We've seen Google Assistant make your devices more helpful and Google Translate breaks down language barriers. However, Google is taking this further with Google Tensor. A chip that can deliver totally new capabilities for Pixel users by keeping pace with the latest advancements in ML.
Built with Google Research
A few years ago, Google's team of researchers came together across hardware, software, and ML to build the best mobile ML computer to finally realize its vision of what should be possible on its Pixel smartphones.
With Google Tensor, Google is unlocking amazing new experiences that require state-of-the-art ML including Motion Mode, Face Unblur, Speech enhancement mode for videos, and applying HDRnet to videos. Google Tensor allows Google to push the limits of helpfulness in a smartphone, taking it from a one-size-fits-all piece of hardware into a device that's intelligent enough to respect and accommodate the different ways we use our phones.
Designed differently
Google designed Google Tensor differently. Google Tensor was built to be a premium system on a chip (SoC) that has everything you would expect from a mobile SoC, and more.
The core experience areas — speech, language, imaging, and video — for our new phones are all heterogeneous by nature, meaning they require multiple resources across the entire chip. So we made sure that Google Tensor was carefully designed to deliver the right level of compute performance, efficiency, and security. With Android 12, it lays the foundation for the future of hardware and software working together. You can see this in real-world use cases, like taking videos or understanding more foreign languages.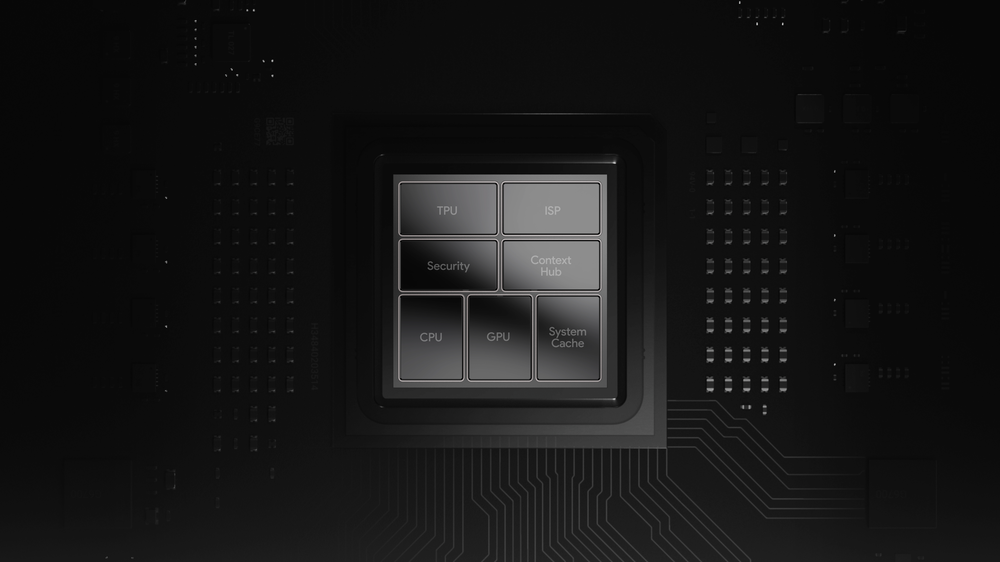 What it can do
The Pixel 6 and Pixel 6 Pro have new capabilities. This is a result of Google Tensor running more advanced, state-of-the-art ML models but at lower power consumption compared to previous Pixel phones.
For example, Google Assistant on Google Tensor uses the most accurate Automatic Speech Recognition (ASR) ever released by Google. For the first time, we can use a high-quality ASR model even for long-running applications such as Recorder or tools such as Live Caption without quickly draining the battery.
You'll also be able to better communicate with people in the language you are most comfortable with thanks to Google Tensor and the new Live Translate feature on Pixel 6 and Pixel 6 Pro. More chat apps — like Messages and WhatsApp — will allow users to translate directly in the chat application, meaning no more cutting and pasting text into the Google Translate web service. Google Tensor also enables Live Translate to work on media like videos using on-device speech and translation models. Compared to previous models on Pixel 4 phones, the new on-device neural machine translation (NMT) model uses less than half the power when running on Google Tensor.
Google Tensor also powers computational photography and video features, which are part of what makes Pixel such an impressive phone. Take one of the new features as an example: Motion Mode.
Tensor's heterogeneous architecture uses the entire chip to enable this new feature at a quality not achievable until now. Because the chip's subsystems work better together, Tensor can handle photography tasks more quickly.
There's also video, which is always a tough use case to solve for. By embedding parts of HDRNet, a feature that delivers the signature Pixel look more efficiently, directly onto the chip, it now works in all video modes for the first time — even at 4K and 60 frames per second — to deliver recordings with more accurate and vivid colors.
You can also expect more accurate face detection on Pixel 6 and Pixel 6 Pro compared to previous Pixel phones. Not only will your phone locate and focus on your subject more quickly, but it will consume about half the power when compared to Pixel 5.
More protection with Tensor security core and Titan M2
Together, Titan M2, Google Tensor security core, and TrustZone running Trusty OS give Pixel 6 and Pixel 6 Pro the most layers of hardware security in any phone.
Google's chip includes Tensor security core, a new CPU-based subsystem that works with the next generation of Google's dedicated security chip, Titan M2, to protect your sensitive user data. Independent security lab testing showed that Titan M2 can withstand attacks like electromagnetic analysis, voltage glitching, and even laser fault injection.
Google Tensor was built around the AI and ML work Google has been doing in collaboration with Google Research, in order to deliver real-world user experiences. Tensor is unlocking experiences that weren't possible until now.
Machine Learning
Find out how Google's machine learning and artificial intelligence solutions could benefit you and your business.