Creative Cloud. Creativity for all.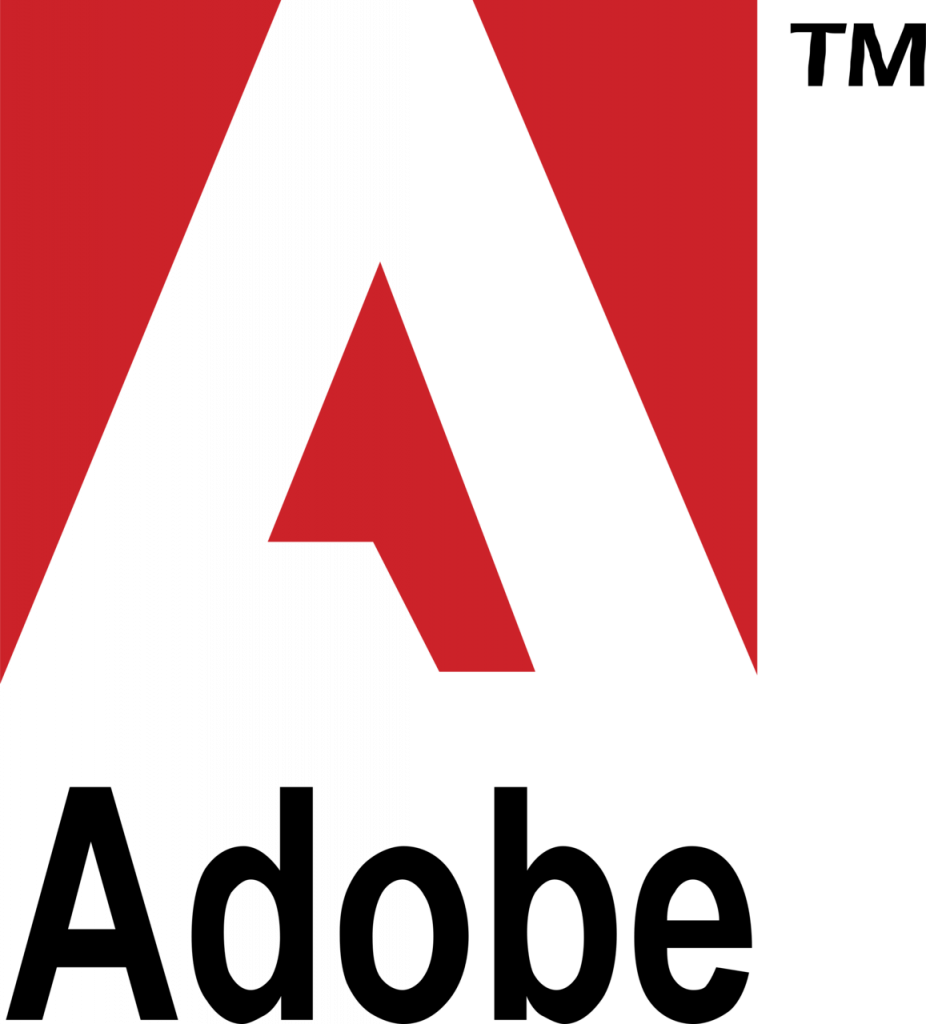 Adobe is changing the game with its innovations. We are redefining the possibilities of digital experiences. We connect content and data and introduce new technologies that democratize creativity, shape the next generation of storytelling, and inspire entirely new categories of business.


Adobe Creative Cloud gives you the world's best creative apps and services so you can make anything you can imagine, wherever you're inspired. The applications are installed directly on your computer, so you don't need an ongoing Internet connection to use them on a daily basis. 


Adobe Sign document cloud solution is a cloud-based, enterprise-class e-signature service that lets you replace paper and ink signature processes with fully automated electronic signature workflows. With it, you can easily send, sign, track, and manage signature processes using a browser or mobile device.
Get a head start with cool creative tools.
No need to start from scratch every time. With your Creative Cloud membership, you get access to color palettes, font families, and a vast collection of stock assets to inspire your next project.
Creative Cloud is a collection of 20+ desktop and mobile apps and services for photography, design, video, web, UX, and more. Now you can take your ideas to new places with Photoshop on the iPad, draw and paint with Adobe Fresco, and design for 3D and AR. Join our global creative community — and make something better together.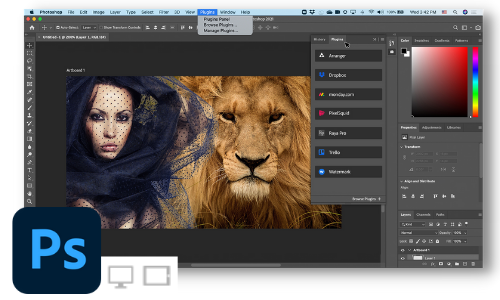 From photo editing and compositing to digital painting, animation, and graphic design, you can do it all in Photoshop. With our latest release, Photoshop is faster, smarter, and easier than ever.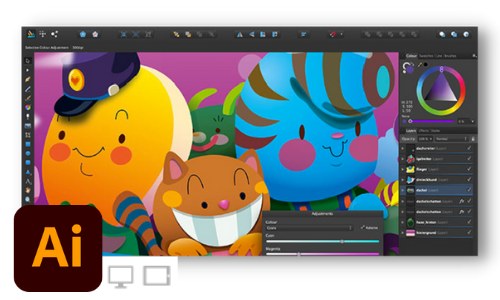 The industry-standard vector graphics software lets you create everything from web and mobile graphics to logos, icons, book illustrations, product packaging, and billboards.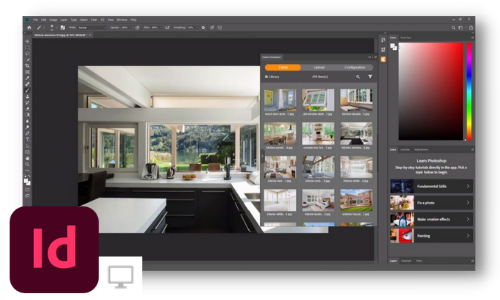 Industry-leading layout and page design software for print and digital media.   InDesign has everything you need to create and publish books, digital magazines, eBooks, posters, interactive PDFs, and more.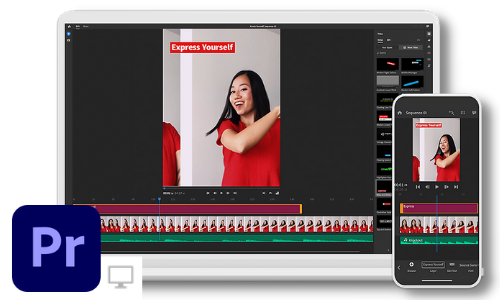 Industry-leading video editing software for film, TV, and the web. Creative tools, integration with other apps and services, and the power of Adobe Sensei help you craft footage into polished films and videos.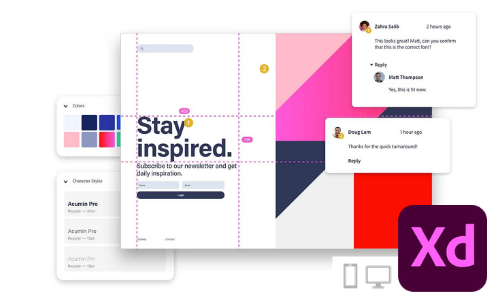 Share your story with designs that look and feel like the real thing. Wireframe, animate, prototype, collaborate, and more — it's all right here, all in one UI/UX design tool.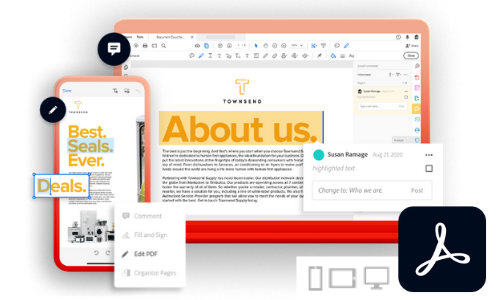 Keeps you connected to your team with simple workflow across desktop, mobile, and web no matter where you are working.
Explore your creativity with desktop and mobile apps including Photoshop, InDesign, and Premiere Rush.
Access thousands of fonts for your projects right within your Creative Cloud apps.
Showcase and discover creative work.
Save, browse, and share assets from libraries right inside your Creative Cloud apps.
Work better together with tools for sharing, reviewing, and commenting.
Create and customize your own portfolio website.
Get 100GB of cloud storage for file sharing and collaboration.
E-signatures keep work moving.
Adobe Acrobat Pro DC with e-sign combines the power of Adobe e-signatures with our industry-leading PDF tools. Try it now with a free, 7-day trial.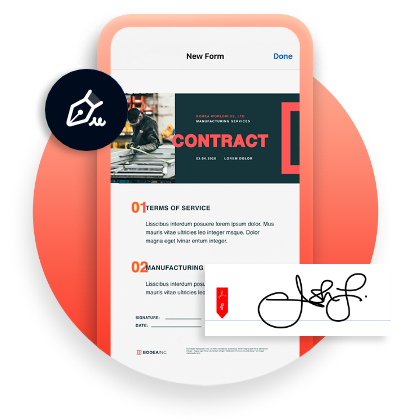 Seamlessly simple e-signatures.
Adobe Acrobat Pro DC with e-sign makes it easy to send, track, and collect e-signatures. Signing documents is just as simple — click, tap, or swipe.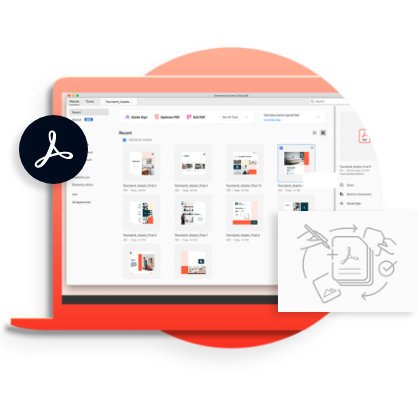 PDF and e-signature tools in one app.
No more jumping from app to app to get work done. Adobe Acrobat Pro DC with e-sign gives you tools to create and edit PDFs, collaborate with others, and manage e-signatures in one simple experience.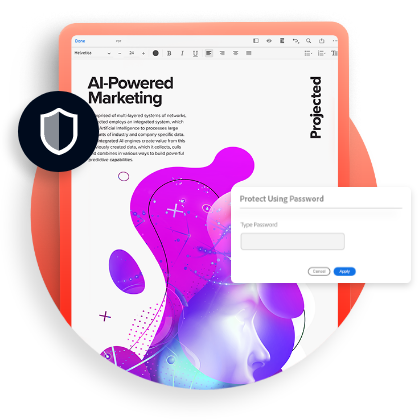 Powered by Adobe Sign, our e-signatures are trusted by small businesses and global brands. With 8 billion e-signatures and counting, you can trust that every transaction is secure and legally binding.
Start your Adobe journey for free.